Unless you've been living in a cave somewhere, you know the only hope for mankind surviving the Coronavirus, or COVID-19, is for all of us to properly wash our hands. (Actually, that cave thing might work, too, but I digress.)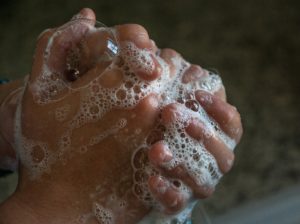 A critical component of that hand washing protocol is that we scrub for a minimum of 20 seconds, which can be timed by singing two full renditions of "Happy Birthday."
Breaking into song in an odd setting might seem strange to some people, but if you love musical theatre as I do, nothing could make more sense. In fact, one of the most classic and innovative musical numbers was actually set in a bathroom (the Executive Washroom, to be precise):  "I Believe in You (Gotta Stop That Man)" from How to Succeed in Business Without Really Trying.
Whether you are a fellow Broadway aficionado, or are simply sick of "Happy Birthday," I offer this brief libretto of Show Tunes for Sanitation… a rewrite of some classics to include the antibacterial flavor of the times.
After all, if you're going do jazz hands, they better be clean.
Oh! Corona!
Ohhhhhhhhhhhhhhhhh Corona
It's the plague that came here on a plane.
Everyone's freaked out
Purell's sold out
All the world has clearly gone insane.
Ohhhhhhhhhhhhhhhhh Corona
Thanks to you are hands are squeaky clean.
We are hoarding food
And fortitude
Just in case we have to quarantine.
We know staying calm would be wise
And we're safe if we just sanitize
But then we say…
(YIKES!)
There isn't any way…
(YIKES!)
That we can stop you.
You'll get us all, Oh Corona.
Oh Corona..
O – H – C – O – R – O – N – A
Oh Corona.
YIKES!
The Phantom of Coronavirus
In coughs it came to us, from overseas
And now the panic spreads with every sneeze.
To logic and good sense, you've all gone blind.
The Phantom of Coronavirus makes you lose your mind.
You who believe the hype draw back in fear.
And buy enough T.P. to last a year.
If you just use good sense and wash your hands
The Phantom of Corona would be gone from all the lands.
Mask-wearer, Mask-wearer
Mask-wearer, Mask-wearer. take off that mask!
It does no good. Really. Just ask.
Doctors will tell you it won't keep you well
by wearing a silly mask.
Mask-wearer, Mask-wearer, here is your task:
You bring the booze. I'll bring the flask.
We'll kill the germs all while feeling no pain
And in our good health we'll bask.
How Do You Solve a Problem Like Corona?
How do you solve a problem like Corona?
How do you find a cure and pin it down?
Science has told us how to fight Corona
So follow these guidelines or
Risk being called a clown.
Rub-a-dub-dub your hands for 20 seconds
Listen to doctors so you understand.
And in these contagious days
Refrain from the PDAs
Sneeze in your arm or get a reprimand.
Oh how do you solve a problem like Corona?
Never allow your face to touch your hand.
All That Jazz
Come on babe
Why don't we paint the town?
And all that Jazz
Oh wait the governor
Has shut the whole place down
Oh yes, he has!
Stop the car
We're in this homebound spot
Where the freedom's stopped
But all the chores have not
It's just a noisy dome
With everyone at home
And all that Jazz
Claim your spot
And put your earbuds in
And all that Jazz
It's Hulu, Amazon
And Netflix for the win
And all that Jazz
All the kiddos
Want to hang with you
And though you'd like to
Ship them off to Timbuktu
You're gonna play along
Because your love is strong
To do that Jazz.
Oh, I didn't know
My kids were so much fun
And all that Jazz
We miss out on so much
Always on the run
And all that Jazz
What a really cool vacation
Being here in isolation
And I'm glad for this time we had
And all that Jazz
Some may think it's strife
But, oh, I love my life
And all that Jazz!
That Jazz!
Don't Cry for Me COVID-19
Don't cry for me COVID-19.
The truth is I never caught you.
Despite the airplane
The crowded restaurant
I kept my hands clean
You kept your distance.
So stand at that sink and give it all you've got!
Remember, they can't buy it if you don't sell it!